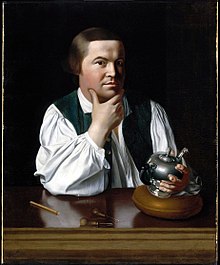 Silversmiths
Revere, Paul
1735 — 1818
Paul Revere (December 21, 1734 – May 10, 1818]) was an American silversmith, engraver, early industrialist, and Patriot in the American Revolution. He is best known for his midnight ride to alert the colonial militia in April, 1775 to the approach of British forces before the battles of Lexington and Concord, as dramatized in Henry Wadsworth Longfellow's poem, "Paul Revere's Ride" (1861).
At age 41, Revere was a prosperous, established and prominent Boston silversmith. He had helped organize an intelligence and alarm system to keep watch on the British military. Revere later served as a Massachusetts militia officer, though his service ended after the Penobscot Expedition, one of the most disastrous campaigns of the American Revolutionary War, for which he was absolved of blame.
Following the war, Revere returned to his silversmith trade. He used the profits from his expanding business to finance his work in iron casting, bronze bell and cannon casting, and the forging of copper bolts and spikes. In 1800 he became the first American to successfully roll copper into sheets for use as sheathing on naval vessels.