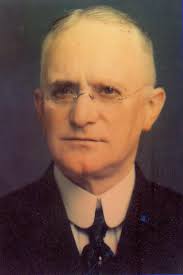 Photographers
Eastman, George
1854 — 1932
George Eastman was an American entrepreneur who founded the Eastman Kodak Company. His invention of the Kodak camera, a name he coined, was a major reason for making photography accessible to the public.
In 1878, when he was 24  he bought a photographic outfit with all the paraphernalia of the wet plate days.The camera was like a big box. He carried a tent so he could spread photographic emulsion on glass plates. In 1879 he traveled to London and obtained a patent on his dry plate-coating machine. In 1880 he organized the Eastman Dry Plate and Film Company for their manufacture.The first Kodak was placed on the market in 1888. It was a simple handheld box camera containing a 100-exposure roll of film that used paper negatives. Consumers sent the entire camera back to the manufacturer for developing, printing, and reloading when the film was used up; the company's slogan was "You press the button, we do the rest." In 1889 Eastman introduced roll film on a transparent base, which has remained the standard for film.
In 1998 Kodak published a report entitled "Sources of Silver in Photographic Processing Facilities." It offered insight in how to extract silver from photographic papers and films, the solutions that are used to develop film, the tape that is used to splice films and the many types of film that use different quantities of silver. The report states that 1,000 square feet of Kodak Gold Film contain four troy ounces of silver while 1,000 square feet of Kodak Royal Gold 400 film, a faster" film with a higher ISO rating, contains only 1.1 troy ounces of silver. (ISO rating is a term used in film-based photography to denote the film's sensitivity to light.)
In this age of digital photography silver remains an integral part of printing photos.
In the late 1920s, Eastman was diagnosed with a progressive and irreversible spinal disease, and on March 14, 1932, he ended his own life. In a note to friends, he wrote, "My work is done. Why wait?"