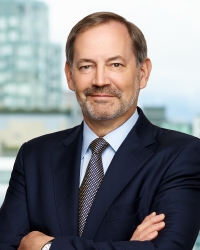 Miner
Quartermain, Robert A.
1955 — -
Inducted into the Silver Hall of Fame in 2017
Robert A. Quartermain has extensive global experience in geology, exploration and development. Over his 40-year career in the resource industry, he has established a solid track record in building shareholder value in the field of precious metals exploration and development. Dr. Quartermain was the president of Silver Standard Resource Inc. from 1985 to 2010, over which time the company grew from a small exploration company with a market capitalization of over $2 million, to a company with a producing mine, five advanced development properties, a pipeline of early stage exploration properties and a market capitalization of over $2.0 billion. Dr. Quartermain is currently the Executive Chairman of Pretium Resources, which he incorporated in 2010 and is developing the low-cost, high-grade gold Brucejack Mine in northern BC. Dr. Quartermain has a Bachelor of Science degree in geology from the University of New Brunswick, a Master of Science degree in mineral exploration from Queen's University and was awarded an Honorary Doctor of Science degree from the University of New Brunswick in May 2009.