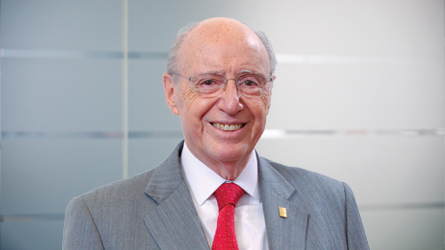 Miner
Lomelin, Jaime
Inducted into the Silver Hall of Fame in 2017
Mr Lomelín spent 36 years at Peñoles where he served as Group Vice President of the metals and chemicals division for four years and subsequently held the position as CEO for 21 years. He brings to the board an invaluable wealth of senior operational experience in the fields of mining and engineering.
Following a career in metals and mining, Mr Lomelín was appointed to the Board on 15 April 2008 and was Chief Executive Officer of Fresnillo plc from April 2008 to 15 August 2012 when he became a Non-executive Director, thus he brings senior management, mining and engineering experience to Board discussions.
Mr Lomelín holds a Bachelor of Science degree in chemical engineering from the Universidad Nacional Autónoma de Mexico (UNAM) and undertook business administration studies at the University of Wisconsin (1958-1959) as well as the AD2 program at the Instituto Panamericano de Alta Dirección de Empresas (IPADE) in 1975 and also the Stanford Executive Program at Stanford University (1984).