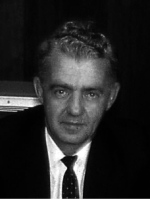 Miner
Kulan, Alan
1921 — 1977
Credited with the discovery of several sizeable lead-zinc-silver deposits in Yukon, most notably the renowned Faro deposit, Alan Kulan was a compassionate and pioneering prospector with an independent, entrepreneurial spirit. His successes spawned other ventures such as prospecting syndicates and exploration companies that discovered other notable deposits and significant mineral occurrences and in which he played a leading role. He was also a generous man who assisted in the education of others and supported the development of local communities in Yukon.
Born in Toronto in 1921, Alan Kulan spent his youth in Toronto and Beausejour, Manitoba, before enlisting in the tanks corps of the Canadian army in 1939. After the war, Kulan reportedly vowed he'd never work for others again and took up prospecting. He was one of the first prospectors to venture to Yukon, despite the fact that many at the time, including the Geological Survey of Canada, thought the territory had little or no mineral potential. Mining executives also shied away, thinking the logistics would be too onerous.
In July 1953, Kulan found a heavy concentration of rust close to Vangorda Creek, near Ross River, and further prospecting resulted in major lead-zinc discoveries. During this time, he helped to educate others, especially indigenous peoples, about prospecting and mineral identification methods. As a result of his success, he helped to build Ross River by establishing permanent office facilities, an assay laboratory, satellite television service, an expediting service and a full service hotel and general store. He also supported those who had helped him succeed by giving them 40,000 shares of Prospector Airways.
In 1964, Kulan helped form Dynasty Explorations, to search for base metals around the Vangorda area. Despite his familiarity with the region, the job was not easy. With his ingenuity and determination, he nevertheless managed to keep the hundreds of tons of supplies and equipment moving along the difficult road and river network.
When further funding was needed, Dynasty joined with Cyprus Mines to form Anvil Mining, which discovered the Faro deposit. The Faro mine operated for more than 20 years and established Yukon as a major supplier of base metals.
After Faro, Kulan formed, ran and managed several mining and exploration companies, demonstrating abundant entrepreneurial spirit. He gained his greatest satisfaction, however, from seeing the vision, getting things under way and then relinquishing the managerial role so that he could continue prospecting.
In later years, his successes were not as economic in nature but were just as significant. In the 1970s while examining iron ore deposits in the Blow River-Rapid Creek and Cross Cut Creek area, he re-discovered an occurrence of lazulite. Further exploration discovered the world's best specimens of lazulite and at least 15 other mineral species, as well as a group of new phosphate minerals found nowhere else in the world. One of these was subsequently named kulanite. These discoveries, lauded by the gem and mineral community, led to the establishment of the Alan Kulan Memorial lectures sponsored jointly by the University of Toronto, the Yukon Chamber of Mines and the Yukon Geoscience Foundation
As a prospector, mine and mineral finder and socially conscious mining executive, Alan Kulan's contributions extended beyond his beloved Yukon and set a fine example for the industry.