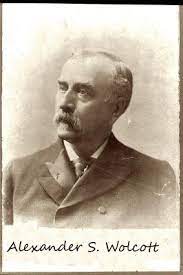 Photographers
Johnson, John
1813 — 1871
John Johnson was born at Saco, Maine, U.S.A. in 1813.   He was brought up in New Hampshire and, for a time, worked as an assistant to a jeweller and watchmaker in New York. He formed a business partnership with Alexander Simon Wolcott (1804 -1844), a New York instrument maker.
1839 was the year that Louis Daguerre, of France, in efforts to finance his developments, went public with his photographic process - the daguerreotype. When the details reached the U.S., Johnson studied them and on October 6, he took the written description to his partner, Alexander Wolcott. Walcott immediately designed a camera for making daguerreotype portraits. Wolcott made a tiny daguerreotype portrait of him with the camera the next day. In time it was called the Walcott camera. It used a highly reflective concave mirror instead of a lens.  This cut exposure times to about 90 seconds in bright sunlight, thereby making daguerreotype portraiture feasible.
In March 1840, Wolcott and Johnson opened a daguerreotype portrait gallery in New York, believed to the first commercial photographic portrait studio in the world. 
Johnson perfected the technique of polishing the silvered copper plates used for daguerreotype portraits and later claimed to have discovered the use of iodine chloride to sensitize plates and reduce camera exposure time. In 1842 he received a patent in the United States for photographic plates ready for permanently holding images. It was the first patented camera that took photographs. Johnson opened a portrait studio in England which he sold in 1844. He kept active in photography for many years, serving on the board of the American Photographic Society.