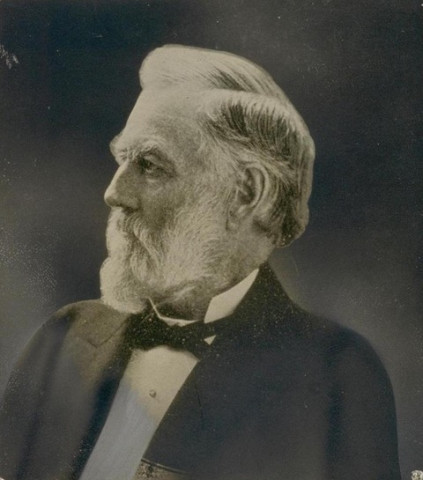 Miner
Hayward, Alvinza
1822 — 1904
Born in Vermont, Hayward moved to Canton, New York early in his life. He studied law in New York, but also pursued lumber and lead mining interests. His experience in Michigan vein mining proved invaluable after his move to California in the Gold Rush of 1850. After buying an interest in the Eureka Mine in Amador County, Hayward made new investments and successfully extracted gold where others had failed, later selling shares in a mine which was said to have yielded more than $5,000,000.
Many more successful mining ventures followed, including the Utica/Selkirk mine near Angels Camp, in which Hayward acquired a shrewd one-third interest in the 1880s after consulting with a medium (who examined a quartz sample). In 1901, the near-vertical Utica quartz deposit — twice abandoned, and once believed so unworkable it traded hands for just $50 — was said to have yielded the single richest gold deposit in California. After heavy investment, more than $7,000,000 in gold was removed from Utica, and up to $900,000 in gold bullion was extracted in a single month.
Known in his later life as a "Silver Baron," Hayward also held a significant interest, which greatly expanded his wealth, in the silver-producing Comstock Lode after 1864. Hayward also found financial success in timber, coal, railroads, San Francisco real estate, and banking. Hayward was a director of the Bank of California, and in 1870 was one of the original investors in the San Francisco City Gas Company, which would eventually become the Pacific Gas and Electric Company.